Welcome to Your Dentist in Vidalia for Comfortable Dental Care
Your comfort during each dental appointment and procedure is our top priority. We provide you and your family a relaxing dental experience as your cosmetic and restorative dentist in Vidalia.
Comfortable Solutions for a New Smile
Cosmetic dentistry provides you options for improving the health and appearance of your teeth. Your available procedures include professional teeth whitening, porcelain veneers, inlays and onlays, and more in our relaxing Vidalia dental office.
Tooth and Smile Restoration
Restorative dentistry for your tooth loss or tooth damage includes dental implants, implant dentures, bridge implants, and the time-saving Teeth in a Day procedure in Vidalia. Your restorative dentist in Vidalia also provides orthodontic treatment for your crooked or misaligned teeth using Invisalign.
Contact our Vidalia dental office about you and your family's general dentistry, cosmetic dentistry, and restorative dentistry treatment. Schedule your next appointment for a comfortable dental experience.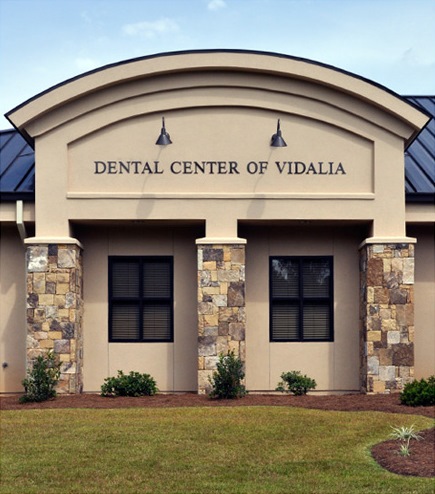 EFFECTIVE JANUARY 1, 2018
In order to provide a high level of dentistry, expenses do occur. Delta Dental Insurance Company refuses to compensate adequately for services that we provide for you and your family. EFFECTIVE JANUARY 1, 2018, we will no longer be filing as an In-Network Provider; we will be considered as Out-of-Network. We will continue to see all of our patients who have Delta Dental Insurance and file for them. Quality has always been one of our core values at Dental Center of Vidalia. We believe that our patients should, and will, receive the best dental care available.